On April 16, 2019, 10 teachers and students from GEMS Experimental High School in Connecticut, USA, came to the High School Attached to NWNU under the leadership of our alumnus, Song Ronghua, for a week-long visit.
At 14:30 p.m. on April 16, a welcoming ceremony for American teachers and students was held in the conference room on the first floor of the International Department. Vice-principal Jing Xiaomin and director of the International Education Service Center, Zhang Zhixuan, attended the welcoming ceremony, which was presided by director Zhang Zhixuan, vice-principal Jing Xiaomin delivered a welcoming speech, and GEMS Experimental High School teachers spoke on behalf of students. We all hope that it can further enhance mutual understanding and learn from each other and make progress together through this activity.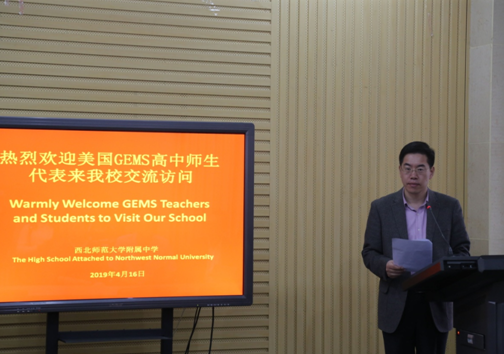 Welcome speech delivered by vice-principal Jing Xiaomin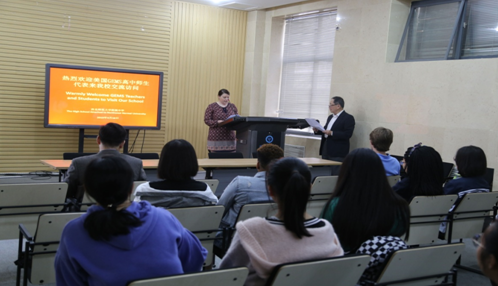 Addresses From teacher's representative from the U.S.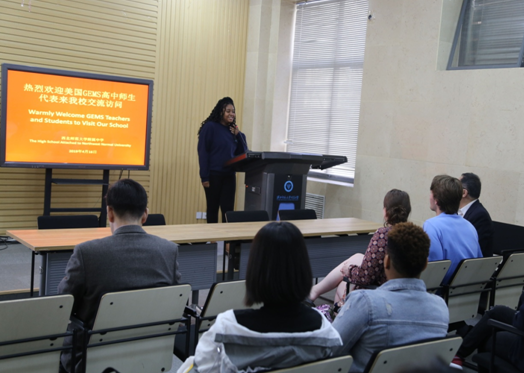 Statements by students representatives from the United States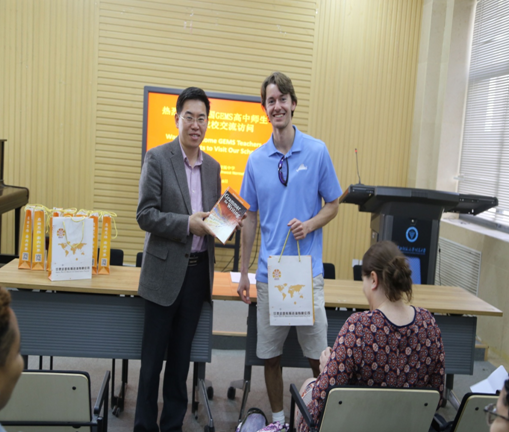 The U.S. delegation presented books to the school.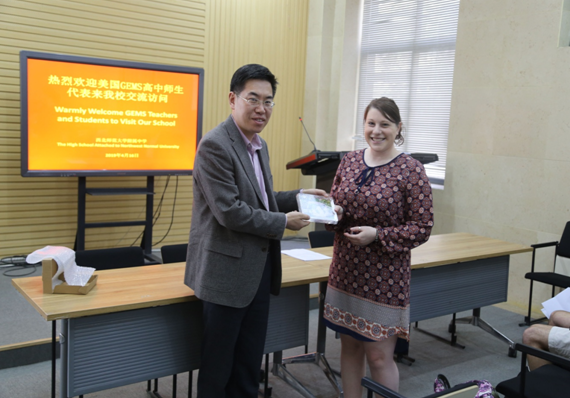 The high school gave gifts to American teachers and students.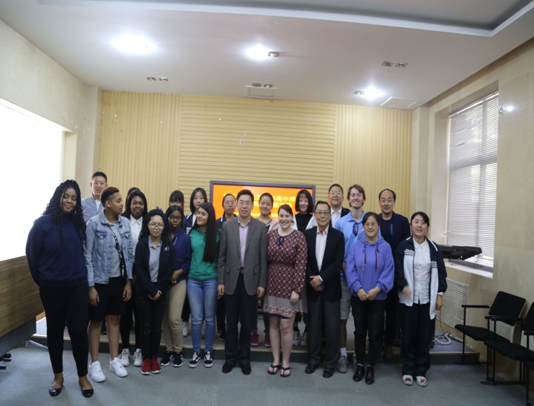 Pose for a group photo
7 students from GEMS Experimental High School accepted by our students family of international class in 2021. Our school has arranged Chinese cultural experience courses for seven American high school students, including Happy Chinese, Chinese Calligraphy, Chinese Opera Facial Makeup Production, Chinese Painting. Under the lead of our school teachers, students were interested in various activities, including learning Chinese pronunciation, writing brushstrokes, drawing Chinese paintings, understanding Chinese opera culture. In a few days, the American students in my school arranged course roughly felt the positive spirit in profound Chinese culture and The High School Attached to Northwest Normal University .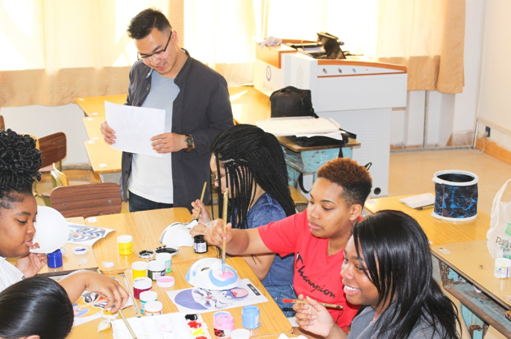 American students make drama facial makeup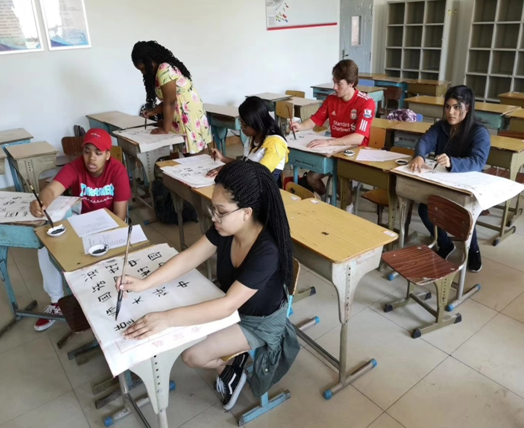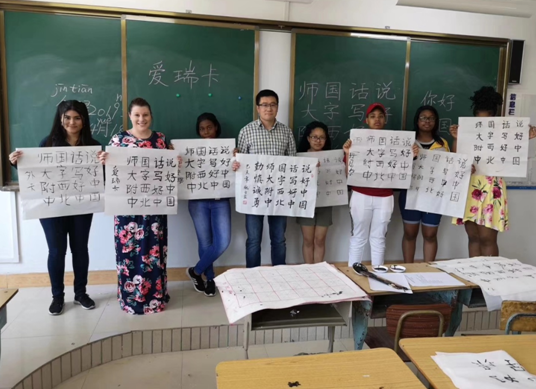 Chinese calligraphy class
Two teachers of GEMS Experimental High School in the United States also brought three math classes and physical education classes to our students of international class in 2021. American teachers brought a pure American learning experience to our international class students through vivid teaching methods, interesting teaching language and open teaching philosophy.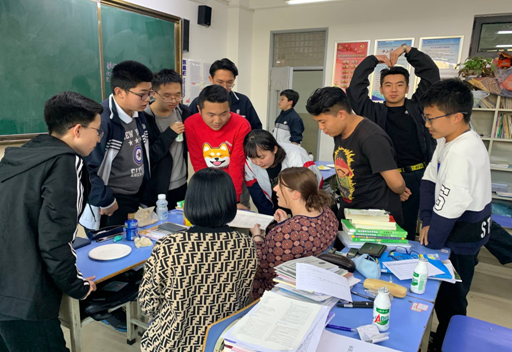 Ask Questions from math teachers in the United States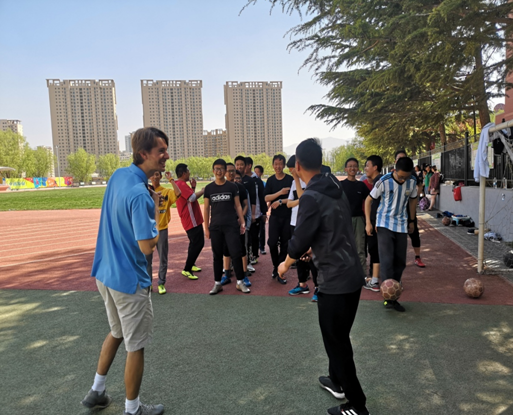 Chinese and American physical education learn from each other by exchanging views
During the visit in a few days, the teachers and students of our international class in 2021 had friendly exchanges with the teachers and students of GEMS in the United States. We enhanced the understanding of each other and established friendship through singing, dancing, playing games and questioning concerning interesting issue.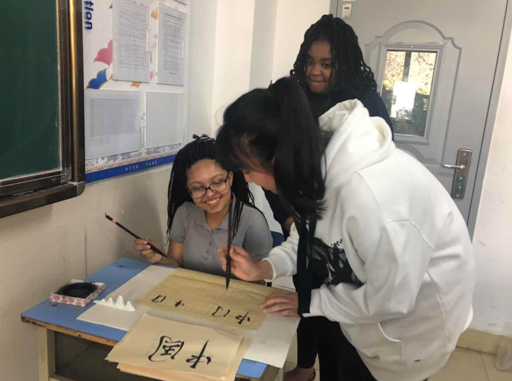 I'll teach you to write the Chinese Characters of "China(Zhong Guo)"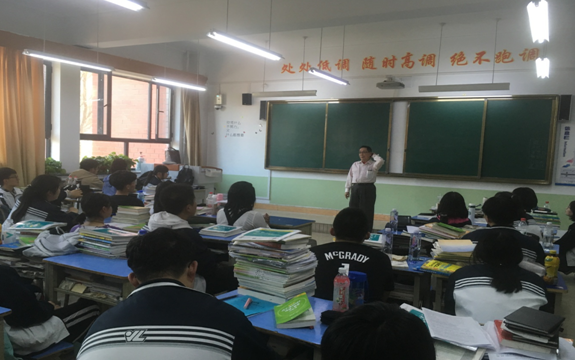 Let me tell you about America
April 18-20, teachers and students delegation from GEMS in the United States also visited the Museum of Northwest Normal University, the Lanzhou Botanical Garden, Wuquan Mountain and other famous attractions in Lanzhou. On the morning of April 21, the delegation left Lanzhou, ending a week-long visit to our school.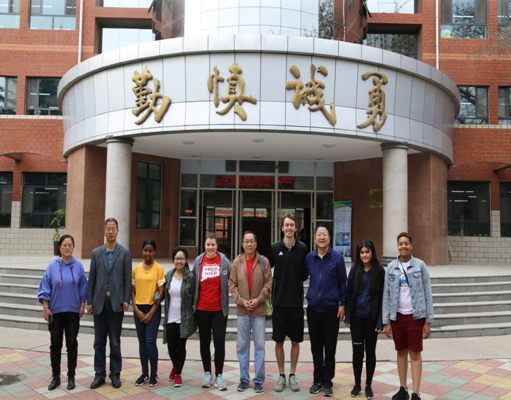 A Photo by Students and Teachers from GEMS Experimental High School and Leaders and Teachers from the International Department in the High School Attached to NWNU